At opposite ends of the age range, former world No1 Natalie Grainger and her mother Jean Grainger are on course for a family double at the WSF World Masters Squash Championships in Hong Kong.
More than 750 players from all corners of the globe are competing in 18 World Masters events – from Men's and Women's Over-35 through to Men's Over-80 categories – with action split between the Hong Kong Squash Centre and Hong Kong Football Club.
In today's semi-finals of the Women's Over-35 event, USA-based top seed Natalie brushed aside South African Farrah Fenner 11-6, 12-10, 11-9 to set up a final against second-seeded Australian Melissa Martin.
Meanwhile favourite Jean downed fellow South African Dawn Kaiser to reach the Over-70 final where she will take on compatriot Sheena Worwood in a bid to win her fourth World Masters title after successes at O55, O60 and O65.
Australian Brian Cook put paid to the chances of a Grainger treble when he defeated Jean's husband Chris Grainger 11-8, 10-12, 11-4, 12-10 in today's Men's Over-65 semi-finals. Top seed Cook will now face surprise opponent Frikkie Bester, a 3/4 seed from South Africa, in the final.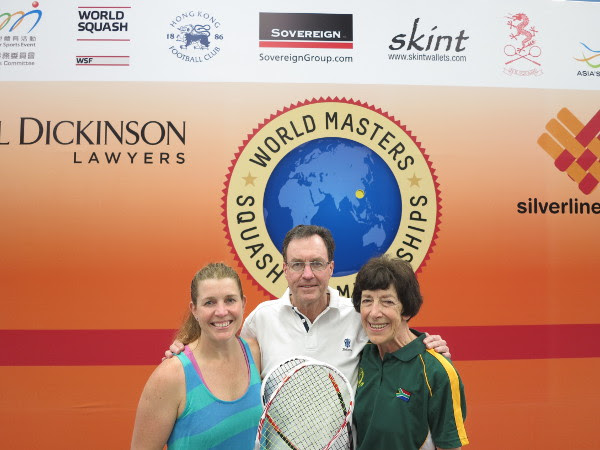 Chris Grainger flanked by daughter Natalie and wife Jean
But Over-35 underdog Melissa Martin will also have a family double on her mind while her top-seeded husband Brett Martin is still in the running for the Men's Over-50 title. The former world No2, competing in his first Masters championship, despatched England's Eamonn Price in today's quarter-finals and will now meet Singapore's Peter Hill for a place in the final.
Australian Dave Fuller became the only unseeded player to survive today's action unscathed. The 55-year-old ousted England's 9/16 seed Dermot Hurford in the Men's Over-55 quarter-finals and will now face fellow Australian Geoffrey Davenport – the top seed who boasts two World titles at both Over-45 and Over-50 – for a place in the final.
Kubukeli & Smith Snatch World Masters Final Slots In Hong Kong
Seeded only to make the quarter-finals, South African Zuko Kubukeli and Australian Kelvin Smith carved out places in the finals of the WSF World Masters Squash Championships in Hong Kong after successful upsets in today's semi-finals of the Men's Over-40 and Over-55 events, respectively.
Kubukeli, a 41-year-old from Johannesburg who only just made it into the top 300 on the PSA World Tour, took just 26 minutes to see off second-seeded compatriot Craig Wapnick, a former world No32, 11-5, 11-3, 11-5.
Underdog Kubukeli (pictured above in World Masters action with Wapnick, rear) will now have another Craig to contend with when he takes on Craig Rowland, the top seed and ex-world No7 from Australia, in Friday's Over-40 final.
Kelvin Smith, a world top ten player in the mid-80s, wound back the clock to despatch Singapore's No2 seed Zainal Abidin 11-8, 14-12, 11-9 to earn a surprise place in the Men's Over-55 final. The 55-year-old will line up in the final against fellow countryman Geoffrey Davenport, the 56-year-old top seed looking for his fifth World Masters title since 2003.
In what was described as the 'Match of the Day', Australian squash hero Brett Martin – the 51-year-old former world No2 making his World Masters debut – recovered from 2/1 down to beat Hong Kong-based former Singapore international Peter Hill 11-3, 12-14, 8-11, 11-9, 11-7 in 49 minutes.
Top seed in the Men's Over-50 event, Martin (pictured above in action with left-hander Hill) will now face second seed Willie Hosey after the Irishman beat England's Jonathan Clark 11-13, 11-7, 11-9, 11-5.
South Africa are already assured of two titles, while Australians feature in ten of the finals and are guaranteed three gold medals.
RESULTS: WSF World Masters Squash Championships, Hong Kong China
Men's Over-35 quarter-finals:
[1] Omar Elborolossy (EGY) bt [5/8] Saurab Nayar (IND) 11-3, 11-2, 11-5 (21m)
[5/8] Armin Hameed (GER) bt [3/4] Paul David Johnson (WAL) 7-11, 11-6, 11-7, 8-11, 11-9 (61m)
[3/4] Mick Biggs (ENG) bt [5/8] Danny Woolbank (AUS) 6-11, 11-8, 11-6, 11-7 (34m)
[2] Morten W Sorensen (DEN) bt [5/8] George Crosby (NZL) 11-7, 11-8, 11-7 (25m)
Semi-finals:
[1] Omar Elborolossy (EGY) bt [5/8] Armin Hameed (GER) 11-4, 11-7, 11-7 (30m)
[2] Morten W Sorensen (DEN) bt [3/4] Mick Biggs (ENG) 11-8, 11-9, 11-4 (23m)
Men's Over-40 quarter-finals:
[1] Craig Rowland (AUS) bt [5/8] Paul Atkinson (RSA) 10-12, 11-6, 11-1, 11-5 (46m)
[3/4] Stephen Cooke (NED) bt Mark O'Hare (AUS) 11-5, 11-2, 11-1 (30m)
[5/8] Zuko Kubukeli (RSA) bt [3/4] Glenn Hitch (AUS) 11-5, 11-1, 11-4 (27m)
[2] Craig Wapnick (RSA) bt [9/16] Tristan Franklin (NZL) 11-4, 11-7, 11-2 (22m)
Semi-finals:
[1] Craig Rowland (AUS) bt [3/4] Stephen Cooke (NED) 11-7, 11-7, 11-3 (27m)
[5/8] Zuko Kubukeli (RSA) bt [2] Craig Wapnick (RSA) 11-5, 11-3, 11-5 (26m)
Men's Over-45 quarter-finals:
[1] Craig van der Wath (RSA) bt [9/16] Christian Borgvall (SWE) 11-8, 11-7, 11-8 (21m)
[3/4] Jean-Jacques Pineau (FRA) bt [9/16] Malcolm Kerr (SCO) 12-10, 11-3, 11-6 (30m)
[5/8] Predi Fritsche (GER) bt [9/16] Thierry Scianimanico (FRA) 11-6, 10-12, 9-11, 11-5, 11-9 (61m)
[2] Michael Tootill (RSA) bt [5/8] Jesus Souto Iglesias (ESP) 11-7, 11-3, 11-1 (30m)
Semi-finals:
[1] Craig van der Wath (RSA) bt [3/4] Jean-Jacques Pineau (FRA) 11-8, 14-12, 11-2 (38m)
[2] Michael Tootill (RSA) bt [5/8] Predi Fritsche (GER) 11-6, 11-3, 11-7 (22m)
Men's Over-50 quarter-finals:
[1] Brett Martin (AUS) bt [5/8] Eamonn Price (ENG) 11-8, 11-4, 11-8 (22m)
[3/4] Peter Hill (SIN) bt [5/8] Warren Miller (AUS) 11-6, 11-5, 8-11, 11-7 (32m)
[5/8] Jonathan Clark (ENG) bt [3/4] Trevor Wilkinson (RSA) 11-6, 6-11, 13-11, 11-7 (44m)
[2] Willie Hosey (IRL) bt [5/8] Dale Robbins (AUS) 11-7, 14-12, 11-3 (26m)
Semi-finals:
[1] Brett Martin (AUS) bt [3/4] Peter Hill (HKG) 11-3, 12-14, 8-11, 11-9, 11-7 (49m)
[2] Willie Hosey (IRL) bt [5/8] Jonathan Clark (ENG) 11-13, 11-7, 11-9, 11-5 (35m)
Men's Over-55 quarter-finals:
[1] Geoffrey Davenport (AUS) bt [5/8] Mark Waldin (NZL) 11-3, 11-7, 11-6 (20m)
Dave Fuller (AUS) bt [9/16] Dermot Hurford (ENG) 11-6, 8-11, 11-6, 11-5 (32m)
[5/8] Kelvin Smith (AUS) bt [3/4] Jeremy Goulding (ENG) 11-8, 13-11, 9-11, 11-6 (36m)
[2] Zainal Abidin (SIN) bt [5/8] Chris Holden (RSA) 11-8, 11-5, 11-6 (21m)
Semi-finals:
[1] Geoffrey Davenport (AUS) bt Dave Fuller (AUS) 11-1, 11-5, 11-4 (17m)
[5/8] Kelvin Smith (AUS) bt [2] Zainal Abidin (SIN) 11-8, 14-12, 11-9 (30m)
Men's Over-60 quarter-finals:
[1] John Macrury (CAY) bt [5/8] Alan Hathway (ENG) 11-8, 11-6, 11-4 (27m)
[3/4] Stuart Hardy (ENG) bt Tomas Carlsten (SWE) 11-3, 11-6, 4-11, 11-6 (25m)
[3/4] Johnny Orsmond (RSA) bt [5/8] Michael John Brown (AUS) 11-4, 11-7, 11-5 (18m)
[2] Peter Alexander (ENG) bt [5/8] Wayne Weatherhead (CAN) 11-5, 9-11, 11-5, 11-6 (33m)
Semi-finals:
[1] John Macrury (CAY) bt [3/4] Stuart Hardy (ENG) 11-7, 11-6, 11-6 (21m)
[3/4] Johnny Orsmond (RSA) bt [2] Peter Alexander (ENG) 8-11, 11-9, 11-8, 11-3 (34m)
Men's Over-65 quarter-finals:
[1] Brian Cook (AUS) bt [9/16] Bruce Mellor (NZL) 11-7, 11-8, 8-11, 11-8 (31m)
[3/4] Chris Grainger (RSA) bt Ron Crosby (NZL) 6-11, 11-8, 11-8, 11-9 (25m)
[3/4] Frikkie Bester (RSA) bt [5/8] Dan Mossenson (AUS) 11-6, 11-9, 11-6 (24m)
Scotch Gibb (RSA) bt [2] Chris Goodbourn (ENG) 6-11, 6-11, 11-9, 11-6, 11-3 (30m)
Semi-finals:
[1] Brian Cook (AUS) bt [3/4] Chris Grainger (RSA) 11-8, 10-12, 11-4, 12-10 (27m)
[3/4] Frikkie Bester (RSA) bt Scotch Gibb (RSA) 11-6, 10-12, 11-9, 11-6 (24m)
Men's Over-70 quarter-finals:
[1] Adrian Wright (ENG) bt Douglas Sparshott (AUS) 11-3, 11-9, 11-7 (19m)
Voon L Chan (CAN) bt [5/8] Tom Slattery (AUS) 11-5, 11-3, 11-5 (16m)
[3/4] Ted Vale (AUS) bt [5/8] Pieter Swart (RSA) 11-5, 11-9, 11-8 (18m)
[2] Gerry Poulton (CAN) bt [5/8] Ken Johnson (ENG) 11-8, 11-8, 11-6 (15m)
Semi-finals:
[1] Adrian Wright (ENG) bt Voon L Chan (CAN) 11-2, 11-6, 11-6 (18m)
[2] Gerry Poulton (CAN) bt [3/4] Ted Vale (AUS) 11-5, 11-7, 11-5 (14m)
Men's Over-75 quarter-finals:
[1] Brian Phillips (WAL) bt [5/8] John Woodliffe (ENG) 11-3, 7-11, 11-8, 8-11, 11-5 (28m)
[3/4] Michael Gough (USA) bt [5/8] John Preston (ENG) 11-6, 11-6, 11-6 (21m)
[5/8] Malcolm Gilham (ENG) bt Alan Frazer (AUS) 6-11, 11-4, 11-8, 12-10 (34m)
[2] Barry Gardiner (NZL) bt [5/8] Lance Kinder (ENG) 11-7, 11-9, 11-8 (18m)
Semi-finals:
[3/4] Michael Gough (USA) bt [1] Brian Phillips (WAL) 11-7, 11-7, 11-7 (23m)
[5/8] Malcolm Gilham (ENG) bt [2] Barry Gardiner (NZL) 11-7, 11-4, 11-4 (20m)
Women's Over-35 quarter-finals:
[1] Natalie Grainger (USA) bt [5/8] Joannah Yue (SIN) 11-6, 11-4, 11-3 (17m)
[3/4] Farrah Fenner (RSA) bt [5/8] Hanna Rusila (FIN) 11-4, 9-11, 11-3, 11-7 (19m)
[3/4] Sam Herbert (RSA) bt Heleen de Jager (RSA) 11-9, 11-6, 11-8 (16m)
[2] Melissa Martin (AUS) bt Juanette le Roux (RSA) 11-6, 12-10, 11-9 (22m)
Semi-finals:
[1] Natalie Grainger (USA) bt [3/4] Farrah Fenner (RSA) 11-6, 12-10, 11-9 (20m)
[2] Melissa Martin (AUS) bt [3/4] Sam Herbert (RSA) 11-9, 12-10, 11-6 (26m)
Women's Over-40 quarter-finals:
[1] Amanda Hopps (AUS) bt Janet Byrnes (RSA) 11-6, 11-8, 11-1 (19m)
[5/8] Lisa Cowlard (NZL) bt [3/4] Yoriko Michishita (JPN) 7-11, 11-5, 11-0, 11-9 (30m)
[3/4] Becky Clarke (NZL) bt [5/8] Janelle Scobie (AUS) 11-6, 11-8, 9-11, 11-3 (31m)
[2] Karen Meakins (BAR) bt Mylene de Muylder (FRA) 11-5, 6-11, 11-3, 11-7 (22m)
Semi-finals:
[1] Amanda Hopps (AUS) bt [5/8] Lisa Cowlard (NZL) 11-9, 11-2, 13-11 (24m)
[3/4] Becky Clarke (NZL) bt [2] Karen Meakins (BAR) 11-6, 12-10, 11-1 (18m)
Women's Over-45 quarter-finals:
[1] Sarah Fitz-Gerald (AUS) bt [5/8] Hope Prockop (USA) 11-4, 11-3, 11-5 (19m)
[3/4] Diana Parums (ENG) bt Yuko Asano (JPN) 11-7, 11-9, 11-5 (20m)
Susan Davis (AUS) bt Yumiko Kurosawa (JPN) 11-3, 11-3, 11-4 (18m)
[2] Sarah Nelson (AUS) bt Wendy Ansdell (ENG) 15-17, 11-5, 11-7, 11-5 (33m)
Semi-finals:
[1] Sarah Fitz-Gerald (AUS) bt [3/4] Diana Parums (ENG) 11-2, 11-3, 11-9 (16m)
[2] Sarah Nelson (AUS) bt Susan Davis (AUS) 21-19, 11-6, 8-11, 11-7 (35m)
Women's Over-50 quarter-finals:
[1] Leora Greenwood (RSA) bt [5/8] Maree Alfredson (AUS) 11-9, 11-7, 11-7 (18m)
[3/4] Kathryn McKay (NZL) bt Joanne Piasecki (HKG) 4-11, 11-3, 9-11, 11-6, 11-8 (28m)
[3/4] Susan Williams (AUS) bt [5/8] Doris Lewalski (GER) 11-7, 11-8, 11-4 (18m)
[5/8] Sue Hillier (AUS) bt [2] Bea de Dreu-Spitse (NED) 11-3, 11-6, 11-3 (17m)
Semi-finals:
[1] Leora Greenwood (RSA) bt [3/4] Kathryn McKay (NZL) 12-10, 11-8, 11-7 (19m)
[5/8] Sue Hillier (AUS) bt [3/4] Susan Williams (AUS) 11-9, 11-7, 11-4 (20m)
Women's Over-55 quarter-finals:
[1] Anne Richards (AUS) bt [5/8] Janet Christy (RSA) 12-10, 11-6, 11-6 (19m)
[3/4] Karen Hume (ENG) bt [5/8] Lynne Davies (WAL) 5-11, 11-9, 11-6, 11-8 (25m)
[3/4] Mary Sceney (AUS) bt [5/8] Jill Campion (ENG) 11-5, 11-3, 11-2 (15m)
[2] Lisa O'Grady (RSA) bt Eunice Bond (SCO) 10-12, 11-7, 11-7, 11-6 (35m)
Semi-finals:
[1] Anne Richards (AUS) bt [3/4] Karen Hume (ENG) 8-11, 5-11, 11-4, 11-9, 11-6 (36m)
[3/4] Mary Sceney (AUS) bt [2] Lisa O'Grady (RSA) 11-8, 11-4, 11-1 (15m)
Women's Over-60 quarter-finals:
[1] Sue Volkze (AUS) bt [5/8] Maureen Carroll (SCO) 12-10, 11-5, 11-3 (16m)
[3/4] Freda Walker (NZL) bt Denise Kyme (BER) 11-6, 11-7, 11-1 (15m)
[3/4] Gaye Mitchell (AUS) bt Lynn de Cambra McLeod (BAR) 11-7, 11-4, 11-5 (15m)
[2] Pauline Douglas (SCO) bt [5/8] Jenny Clark (AUS) 11-5, 11-5, 11-6 (19m)
Semi-finals:
[1] Sue Volkze (AUS) bt [3/4] Freda Walker (NZL) 11-6, 11-7, 11-6 (26m)
[2] Pauline Douglas (SCO) bt [3/4] Gaye Mitchell (AUS) 8-11, 14-12, 11-5, 11-7 (28m)
Women's Over-65 quarter-finals:
[1] Averil Murphy (ENG) bt Jane Mackie (AUS) 11-6, 11-1, 11-5 (14m)
[3/4] Marilyn Kennedy (AUS) bt Margaret Hunt-Kemp (RSA) 6-11, 12-10, 13-11, 11-9 (22m)
[3/4] Claire Bryars (FRA) bt Judy Cooper (NZL) 11-6, 11-3, 11-6 (15m)
[2] Bett Dryhurst (ENG) bt Linda McBrierty (AUS) 11-8, 11-5, 11-4 (18m)
Semi-finals:
[1] Averil Murphy (ENG) bt [3/4] Marilyn Kennedy (AUS) 11-9, 6-11, 11-7, 11-6 (26m)
[3/4] Claire Bryars (FRA) bt [2] Bett Dryhurst (ENG) 11-4, 11-5, 11-9 (19m)
Women's Over-70 quarter-finals:
[1] Jean Grainger (RSA) bt Sanae Noguchi (JPN) 11-2, 11-1, 11-4 (12m)
Dawn Kaiser (RSA) bt [3/4] Joan Witton (ENG) 12-10, 11-5, 7-11, 11-6 (21m)
[3/4] Sheena Worwood (RSA) bt Jill Mitchell (AUS) 11-6, 11-4, 11-6 (16m)
Norma Fulling (ENG) bt [2] Barbara Sanderson (IRL) 11-7, 12-10, 8-11, 13-11 (31m)
Semi-finals:
[1] Jean Grainger (RSA) bt Dawn Kaiser (RSA) 11-5, 11-3, 11-0 (13m)
[3/4] Sheena Worwood (RSA) bt Norma Fulling (ENG) 11-4, 11-9, 11-8 (18m