After finishing as runners-up a year ago, England reclaimed the European Junior U19 Team Squash Championship title in style – beating first-time finalists Wales 3/0 to win the European Squash Federation event for the 24th time without conceding either a match or a game throughout the four-day tournament in the Austrian capital Vienna.
England number one Ben Coleman started the rout.  The 18-year-old British Junior champion from Chelmsford beat David Haley 11-3, 11-4, 11-3 in the opening match.  Team-mate Charles Sharpes, the new English Junior national champion from Surrey, clinched victory for the top seeds by despatching Welshman Sam Fenwick by exactly the same score – 11-3, 11-4, 11-3.
In the third and 'best-of-three' dead rubber, 17-year-old Millie Tomlinson – the women's English Junior national champion from Derbyshire – maintained England's clean sheet throughout the event by overcoming Hannah Jane Davies 11-9, 11-7.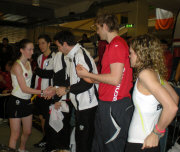 "I am really proud of our squad – to have come through the whole tournament without dropping a game is quite an achievement," said England coach David Campion.  "I don't think that's ever been done before.
"We've had a really strong team here who have really performed all week," added Campion.  "And having James Willstrop here has been an inspiration to all the players.
"He kindly agreed to use the week he had off to join us here – and it's given the players a huge boost having him around.  For all of them, it's their aspiration to become a player like James.
"But congratulations go to Wales for reaching the final for the first time – they've had a superb week.  We'd been gearing up all week to play France in the final, so it was a great achievement for Wales to beat them in the semis to make the final.
"Even though we've got a great record in this event, it's never straightforward to win it each time:  You have to keep focussed and make sure there are no slipups or mistakes – you have to pay attention to detail," concluded Campion.
Chris Robertson, the Welsh team coach, was also clearly delighted with his team's performance:  "Obviously it was a good tournament for the Welsh Team as this was the first time Wales has reached the U19 European final.  The team was seeded fifth and this I felt was a realistic seeding – possibly generous after looking at our form in the individual event.
"Hence, their performances in the team event was very pleasing, with all the players playing to their maximum in critical matches," added the former Australian international. "As Wales won a bronze medal last year, this silver medal has been confirmation that the players and Welsh system does appear to be producing players who have the skill, fitness and maturity to handle this occasions.
"England today were a class above us and unfortunately we were not able to match them in the final, but we enjoyed the opportunity the final presented and the players are all aware they have much work to do if they wish to win this event one day.  We look forward to the event next year as we have all but one player available and hopefully we can produce another shock or two!"
France beat Czech Republic 2/1 in the play-off for third place, while defending champions Germany took fifth place after surviving a close battle against Switzerland.
Hosts Austria had much to celebrate after beating Ireland 2/1 in the play-off for 11th place to record their best finish since 1997.
Hungary, the 18th seeds, marked their best ever achievement in the event by finishing in tenth place – while Slovakia celebrated their first ever appearance in the championship with an impressive 14th place finish.
Final:
[1] ENGLAND bt [5] WALES 3/0
Ben Coleman bt David Haley 11-3, 11-4, 11-3
Charles Sharpes bt Sam Fenwick 11-3, 11-4, 11-3
Millie Tomlinson bt Hannah Jane Davies 11-9, 11-7
3rd place play-off:
[2] FRANCE bt [3] CZECH REPUBLIC 2/1
Lucas Serme bt Daniel Mekbib 11-2, 11-7, 11-6
Arthur Moineau lost to Zbynek Standera 10-12, 7-11, 8-11
Cyrielle Peltier bt Anna Klimundova 11-13, 11-9, 11-8, 11-5