After a series of second round upsets defending champions Nicol David and Karim Darwish stayed on course as normal order was restored in the quarter-finals of the Qatar Classic in Doha with all the remaining seeds reaching the semi-finals.
Darwish & Willstrop Home In On Qatar Final
Karim Darwish and James Willstrop, now the highest two seeds left in the Qatar Classic draw, edged closer towards the final of the sixth PSA World Series squash event of the year in the Qatar capital Doha after four-game quarter-final victories today at the Khalifa International Tennis & Squash Complex.
Willstrop, the fourth seed from England, faced fellow countryman Peter Barker in a repeat of their meeting at the same stage of the US Open just over a week ago. And, as it was then, Willstrop had to recover from a game down to beat his England team-mate.
The match looked as though it was heading for a decider as Barker led throughout the fourth, but his frustration grew as Willstrop pegged back the lead, saved two game balls, and took the match after a tie-break 6-11, 11-7, 11-4, 13-11 in 56 minutes.
"Peter played a really good game for that court, he surprised me," Willstrop told www.squashsite.co.uk later. "I didn't expect that game from him, taking the ball that early, going that short. He is really adding to his game all the time.
"Today, I had to dig in deep to turn it around."
The first match promised another upset when unseeded Swiss star Nicolas Mueller raced into an 11-2 and 4-1 lead over Darwish, the third-seeded defending champion.
The Egyptian settled, and dominated from that point on to win 2-11, 11-8, 11-5, 11-4 in 35 minutes.
"The first game is the best game I ever played in my life, up to 4-1 in the second," exclaimed Mueller afterwards. "I was very sharp and taking the ball very early, and that surprised him a bit maybe."
Darwish, bidding to become the first three-time winner of the title, was full of praise of his young opponent – who upset Egyptian former champion Amr Shabana and top-ranked Malaysian Mohd Azlan Iskandar to reach the last eight:
"Overall, he played superb squash – and if he goes on like that, he'll go to the top," said world No3 Darwish of Mueller.
There was to be no further upset for Egypt's Tarek Momen, who after his explosive dismissal of top seed Nick Matthewin the previous round, found sixth seed Gregory Gaultier a step too far.
Not that the Frenchman had it at all easy. Despite winning in straight games 11-5, 11-8, 11-7, Gaultier was kept on court for over an hour – and the young Egyptian had his chances in each of the last two games.
An upset of sorts finally arrived in the last match of the day as Stewart Boswell got the better of fellow AustralianCameron Pilley in four games 11-8, 11-5, 4-11, 11-4. Both Aussies were unseeded, but on the night it was Boswell – the victor over higher-ranked compatriot David Palmer in the previous round – who won through.
PSA World Series Qatar Classic, Doha, Qatar
Quarter-finals:
[6] Gregory Gaultier (FRA) bt Tarek Momen (EGY) 11-5, 11-8, 11-7 (65m)
[3] Karim Darwish (EGY) bt Nicolas Mueller (SUI) 2-11, 11-8, 11-5, 11-4 (35m)
[4] James Willstrop (ENG) bt [7] Peter Barker (ENG) 6-11, 11-7, 11-4, 13-11 (56m)
Stewart Boswell (AUS) bt Cameron Pilley (AUS) 11-8, 11-5, 4-11, 11-4 (68m)
Full coverage on: www.squashsite.co.uk/qatar
David on course for Doha defence as seeds win in quarter-finals
Top seed and defending champion Nicol David was always in control against young Egyptian Raneem El Weleily, who didn't help her own cause with numerous unforced errors in each of the three games. Only in the third did the Egyptian threaten to extend the match, but David soon closed that opening to win 11/6, 11/4, 11/8 in 27 minutes.
Third seed Rachael Grinham took just a little longer to end the run of England's Emma Beddoes who had scored two upset wins to reach this stage, but for the Australian it was a case of taking the first game in the face of a stiff challenge from Beddoes. Thereafter Grinham's shotmaking held sway.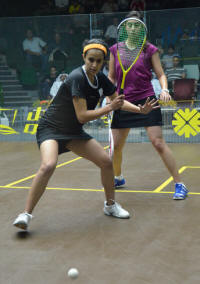 A hard fought straight games win for Madeline Perry over Malaysia's Low Wee Wern started the evening session at the Khalifa International Tennis and Squash complex. Each of the games were close to the midpoint but the Northern Ireland fourth seed's experienced showed as she forged ahead in all three to win 11/8, 11/5, 11/9 in 26 minutes.
Nour El Tayeb and Nour El Sherbini met in a replay of their recent World Junior and WISPA Alexandria finals. In a match featuring dramatic retrieving and tremendous shotmaking from both Egyptian teenagers, it was the elder of the two El Tayeb who emerged the 3/1 winner this time, thus emulating her achievement last year in making the semi-finals.
WISPA World Series Qatar Classic, Doha, Qatar
Quarter-finals:
[1] Nicol David (Mas) bt [9] Raneem El Weleily (Egy) 11/6, 11/4, 11/8 (27m)
[3] Rachael Grinham (Aus) bt Emma Beddoes (Eng) 14/12, 11/4, 11/7 (30m)
[4] Madeline Perry (Irl) bt [12] Low Wee Wern (Mas) 11/8, 11/5, 11/9 (42m)
[13] Nour El Tayeb (Egy) bt Nour El Sherbini (Egy) 11/8, 5/11, 11/8, 13/11 (46m)
Full coverage on: www.squashsite.co.uk/qatar