Home Hero Clyne Clings On In Glasgow
The longest match on the opening day of Squash action in the Commonwealth Games in Glasgow produced one of the most popular wins when Scottish number one Alan Clyne battled back from 2/1 down on the all-glass showcourt atScotstoun Sports Campus to beat Indian Harinder Pal Sandhu to claim a place in the last 16.
A disputed no let call on match ball – upheld by the fourth referee after lengthy consideration – gave victory to the ninth seed from Edinburgh 12-14, 11-9, 13-15, 11-1, 11-9 after 116 minutes.
The top 16 seeds, led by Malaysia's defending champion Nicol David, moved comfortably into the last 16 of the women's event.
The near capacity crowd of some 2,000 fans cheered on every winning point by Clyne before erupting in sheer jubilation when the central referee confirmed his triumph.
"Was it really 60 seconds – it felt more like five minutes," joked the 27-year-old world No35 when asked what he was thinking about while the final decision was being.
"There wasn't much in it – the crowd probably made the difference," acknowledged Clyne.
Sandhu said: "My goal now is the next Commonwealth Games in 2018. Most of the top players now won't be playing anymore – my age will be in my favour."
Scot Clyne now faces defending top-seeded Englishman Nick Matthew, the reigning gold medallist who beat Jamaican underdog Christopher Binnie 11-4, 11-8, 11-4.
"I wasn't expected to win – but I wanted to compete," said US-based Binnie, the 25-year-old Caribbean champion who is fighting back to form after a six-month layoff following hip surgery.
Within hours of producing the upset of the tournament when he overcame eighth seed Ong Beng Hee, Zambian Kelvin Ndhlovu became the only unseeded player in the men's last 16 when he beat Joe Chapman, of the British Virgin Islands, 11-6, 10-12, 11-0, 12-10.
"I knew my preparation was good," said the unranked 28-year-old South Africa-based Zambian.
Alister Walker became the first Botswana player ever to reach the last 16 when he beat Cameron Stafford, of the Cayman Islands, 11-3, 11-4, 11-5.
"I was much more nervous before my first match than I expected to be," said sixth seed Walker. "It's the whole expectation – more so back in your own country than there is for the Tour events we play. I'm hoping my matches will be shown on TV back in southern Africa – which would be a first.
"I'm dying to get onto the glass court – which I will tomorrow.
"It's easy when you're from Botswana – every step is history!"
Only hours after having the honour of being one of six sporting icons chosen to carry the Commonwealth Games flag into the arena during the Opening Ceremony, Malaysia's world No1 Nicol David successfully began the defence of the women's title with an 11-6, 11-2, 11-1 win over Vanessa Florens, from Mauritius.
"It was an unbelievable experience – and I wouldn't have missed it for the world," said David. "Representing Asia and carrying the Commonwealth Games flag with some of my greatest sporting heroes was phenomenal. Just thinking about it gives me goose-bumps.
"It was a dream to win the gold medal for Malaysia last year."
England's world No2 Laura Massaro, David's anticipated opponent in Monday's final, also despatched her first round opponent in straight games, seeing off 16-year-old Papua New Guinean Lynette Vai 11-2, 11-4, 11-1.
"It was unbelievable for a first round match – an unbelievable atmosphere. I think I'm playing OK.
"For squash players, there are three major titles they want – the British Open, the World Open and the Commonwealth Games – and I'm lucky enough to have won two of them so this is the one I now want. The Commonwealth Games doesn't come round very often," said Massaro.
Full Commonwealth Games coverage
RESULTS: Commonwealth Games Squash, Glasgow, Scotland

Men's 3rd round:
[1] Nick Matthew (ENG) bt Christopher Binnie (JAM) 11-4, 11-8, 11-4 (27m)
[9] Alan Clyne (SCO) bt Harinder Pal Sandhu (IND) 12-14, 11-9, 13-15, 11-1, 11-9 (116m)
[7] Chris Simpson (GGY) bt Colin Ramasra (TRI) 11-2, 11-4, 11-1 (22m)
[11] Ryan Cuskelly (AUS) bt Shawn Delierre (CAN) 11-2, 11-7, 9-11, 8-11, 11-8 (84m)
[3] Peter Barker (ENG) bt Mahesh Mangaonkar (IND) 11-4, 11-6, 11-2 (40m)
[10] Mohd Nafiizwan Adnan (MAS) bt Peter Creed (WAL) 11-9, 11-7, 13-11 (52m)
[5] Cameron Pilley (AUS) bt Sunil Seth (GUY) 11-6, 11-3, 11-9 (25m)
[16] Greg Lobban (SCO) bt Nick Taylor (JEY) 12-10, 11-9, 11-8 (41m)
[12] Campbell Grayson (NZL) bt Micah Franklin (BER) 11-1, 11-1, 11-4 (21m)
Kelvin Ndhlovu (ZAM) bt Joe Chapman (IVB) 11-6, 10-12, 11-0, 12-10 (51m)
[14] Steven Finitsis (AUS) bt Joel Makin (WAL) 11-5, 11-6, 11-6 (44m)
[4] Saurav Ghosal (IND) bt Paul Coll (NZL) 11-4, 11-4, 11-7 (43m)
[15] Ivan Yuen (MAS) bt Bradley Hindle (MLT) 9-11, 11-8, 11-7, 11-8 (57m)
[6] Alister Walker (BOT) bt Cameron Stafford (CAY) 11-3, 11-4, 11-5 (25m)
[13] Martin Knight (NZL) bt Kevin Moran (SCO) 11-4, 11-3, 9-11, 11-6 (55m)
[2] James Willstrop (ENG) bt Anthony Brindle (GIB) 11-6, 11-5, 11-4 (15m)

Women's 1st round:
Sarah Taylor (JEY) bt Violet Luchendo (KEN) 11-2, 11-6, 11-6
Deon Saffery (WAL) bt Kimberley Borg-Cauchi (MLT) 11-3, 11-1, 11-1 (14m)
Sharon Chimfwembe (ZAM) bt Dorothy Boyce (PNG) 11-4, 11-7, 11-9
Nadindhi Udangawa (SRI) bt Eva Alphonse (SEY) 11-1, 11-1, 11-3 (11m)
Anaka Alankamony (IND) bt Khaaliqa Nimji (KEN) 11-2, 11-3, 11-6 (14m)
Charlotte Knaggs (TRI) bt Naduni Gunawardane (SRI) 11-9, 10-12, 11-8, 11-9 (26m)
Mihiliya Methsarani (SRI) bt Colette Sultana (MLT) 9-11, 10-12, 13-11, 11-9, 11-2 (42m)
2nd round:
[1] Nicol David (MAS) bt Vanessa Florens (MRI) 11-6, 11-2, 11-1 (17m)
[16] Megan Craig (NZL) bt Safina Madhani (KEN) 11-1, 11-2, 11-2 (11m)
[8] Jenny Duncalf (ENG) bt Amanda Landers-Murphy (NZL) 11-2, 11-0, 11-8 (29m)
[14] Samantha Cornett (CAN) bt Sarah Cardwell (AUS) 11-5, 11-7, 11-7 (34m)
[3] Joelle King (NZL) bt Sarah Taylor (JEY) 11-2, 11-3, 11-2 (17m)
[12] Joshana Chinappa (IND) bt Deon Saffery (WAL) 11-9, 11-6, 9-11, 11-9 (47m)
[7] Madeline Perry (NIR) bt Sharon Chimfwembe (ZAM) 11-3, 11-2, 11-4 (14m)
[10] Kasey Brown (AUS) bt Nadindhi Udangawa (SRI) 11-3, 11-6, 11-3 (21m)
[15] Delia Arnold (MAS) bt Anaka Alankamony (IND) 11-6, 11-8, 11-6 (31m)
[6] Dipika Pallikal (IND) bt Charlotte Knaggs (TRI) 11-4, 11-2, 11-1 (16m)
[9] Rachael Grinham (AUS) bt Mihiliya Methsarani (SRI) 11-6, 11-3, 11-1 (16m)
[4] Alison Waters (ENG) bt Eli Webb (PNG) 11-2, 11-1, 11-2 (11m)
[13] Tesni Evans (WAL) bt Kerrie Sample (TRI) 11-3, 11-2, 11-3 (18m)
[5] Low Wee Wern (MAS) bt Eilidh Bridgeman (CAY) 11-1, 11-2, 11-2 (19m)
[11] Nicolette Fernandes (GUY) bt Namweene Muchaile (ZAM) 11-4, 11-3, 11-3 (13m)
[2] Laura Massaro (ENG) bt Lynette Vai (PNG) 11-2, 11-4, 11-1 (18m)
Full  Commonwealth Games coverage
Beng Hee Bows Out At Glasgow 2014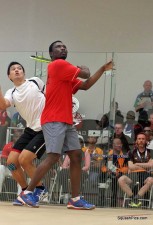 Eighth seed Ong Beng Hee, the former world No7 from Malaysia making a record-equalling fifth successive appearance in the Commonwealth Games, bowed out in the opening round of the Glasgow 2014 Games today after losing in four games to unranked Zambian Kelvin Ndhlovu.
Suffering with flu and a shadow of his usual self, Beng Hee did his best to withstand the determined attack of South Africa-based Ndhlovu in the last 64 round at Scotstoun Sports Campus in Glasgow. But the unheralded 28-year-old held his nerve to produce the upset of the round, winning 11-7, 11-2, 9-11, 11-5 in 35 minutes.
"I've been struggling with a knee problem for a few weeks and then a few days ago was struck down with a fever and just haven't been able to practise – in fact today's the first time I've been to the venue," explained a distraught Beng Hee afterwards. "But well done to Kelvin – I've never seen him play before but he deserved the win.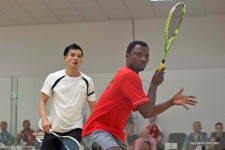 "I'm very sad – you look forward to something like this every four years and not to be able prepare and then perform is very disappointing. But at least I have the Asian Games still to go this year. At least I can now prepare for that.
"But I've still got the doubles here – though I've never played men's doubles before," added the 34-year-old, a silver and bronze medallist in the mixed doubles.
Ndhlovu was delighted with his breakthrough success: "I'm really happy about that – it was a big win, the biggest of my career and I'm very proud.
"I had some good wins last week in South Africa, where I am based, which was good preparation," added the Gauteng-based Zambian. "I lost easily in my first appearance in the Games four years ago – but I came into this with a different mind-set – I was much more motivated.
"But I was really nervous when I walked in. I then got too tense when I was ahead in the third game, and he came back strongly to take the game. I really didn't expect to win – I have got no idea who I'm playing next!"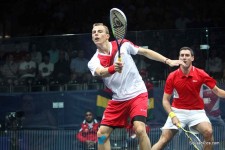 Three-time world champion Nick Matthew, who only hours earlier had led Team England into the Opening Ceremony as his country's flag-bearer, successfully began the defence of his gold medal with an 11-3, 11-3, 11-1 win over Xavier Koenig of Mauritius.
"He had a good array of shots – and that's what I wanted, to get rid of the cobwebs," said 33-year-old Matthew, the world No2.
"After last night's massive high, I got to bed around midnight and was up at eight o'clock."
The opening match on the venue's spectacular showcourt was watched by an exuberant near capacity crowd surrounding the all-glass court.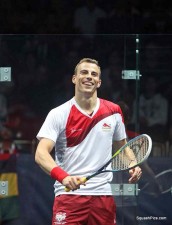 "It was just good to come out to such an amazing response – it's more like a finals crowd than a first round! I've had a long career and played in some amazing venues, but never experienced a first round crowd like that."
The Yorkshireman was also celebrating his 100th cap for England. "To be honest, I was originally a bit disappointed when I knew my last England match – when I beat world number one Greg Gaultier in the European Championship final – was my 99th cap, as it was such a big game.
"I expected this to be relatively low-key – but it was far from it!
"I'm feeling good being back on court after the knee surgery. My back-up team, with England physio Jade here with me, are looking after me well."
Games debutant Koenig, playing on the biggest stage of his life, was pleased with his performance: "I wanted to get a least two points – I had to try everything. He was very kind to me – but I was so relieved to get that first point! I studied in Perth, Australia, for six years so that's where my squash improved."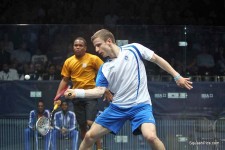 The sensational crowd became even more vocal when local hero Alan Clyne, the Scottish number one ranked 35 in the world, despatched his first opponent Kevin Hannaway, from Saint Vincent and the Grenadines, 11-1, 11-2, 11-2.
"The crowd reaction was pretty incredible – I didn't expect it to be like this!" said the ninth seed from Edinburgh. "When I first came out, I had goose-bumps. But I could see from the warm-up that he was a good player.
"I've never played in front of a home crowd like this – in fact the first time was only a month ago when I played a small Tour event in Inverness – but it was nothing like on this scale! I wanted to play good squash today and I think I did that."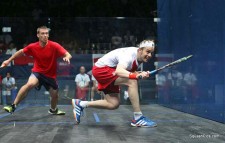 Second seed James Willstrop, the world No6 expected to meet Matthew in the second successive all-English men's final, also had a straightforward opening round win on the all-glass court, seeing off Bermuda's Nicholas Kyme 11-4, 11-3, 11-4.
"The atmosphere here was unbelievable – a lot of big finals wouldn't get this," said the former world number one from Harrogate later. "It's great for the game and it's wonderful to be involved – I'm trying to soak up every minute.
"The Commonwealth Games? It doesn't come any better than this – it's quite exceptional what Glasgow has been doing."
Like all the men's last 64 round winners, Willstrop will go on to play a further match today to qualify for Thursday's fourth round.
"It's long time since I've played two matches in day – back in the days of the Under-12s – it's quite rare!"
Games debutant Alister Walker celebrated the first ever Botswana win in the Commonwealth Games when he beat Sri Lanka's Dilshan Gunawardena 11-5, 11-4, 11-2. US-based Walker, the sixth seed who switched nationality from England to the country of his birth three years ago, will now face Cameron Stafford, of the Cayman Islands, for a place in the last 16.