The fourth day of action in the Qatar Classic in Doha saw men's second seed Ramy Ashour and women's sixth seed Kasey Brown both retire during their matches at the Khalifa International  Tennis and Squash Complex.
The first round of the PSA World Series event thus ended as it started, with a high-profile Egyptian casualty, while the WISPA World Series event saw five seeds fall in its first round.
---
Ramy Retirement Sees Richards Through In Qatar
England's unseeded Tom Richards secured a surprise place in the last 16 round of the Qatar Classic after second seedRamy Ashour conceded their first round match in the sixth PSA World Series squash event of the year in the Qatar capital Doha after just 18 minutes.
Ashour, the world number two who heads the 2011 Dunlop PSA World Series Standings, was clearly struggling with an injury that hampered his movement on the all-glass court at the Khalifa International Tennis & Squash Complex.
Richards, the world No24 who lost to the Egyptian at the North American Open in February, took the opening two games before Ashour offered his hand in defeat.
"I know he could barely move on there," said the 25-year-old from Surrey to www.squashsite.co.uk after his surprise win. "Yet I still had to play the best squash I ever played to beat him!"
Richards goes on to face Cameron Pilley after the world No16 from Australia saw off India's world No32 Saurav Ghosal11-6, 12-10, 11-7.
Earlier, an all-Australian second round clash was set up after Commonwealth Games Doubles silver medallists David Palmerand Stewart Boswell survived their first round battles.
Palmer, four times a runner-up in the Doha event, was given a good workout by Scotland's Alan Clyne in his last Qatar Classic.
"At the end it wasn't the best," said eighth seed Palmer after his 12-10, 11-9, 7-11, 11-4 victory in 56 minutes. "But I'll take the win – nowadays, I take what I can!
"But tomorrow, I'll have to play better," added the 35-year-old from New South Wales.
Boswell had lost after leading two-nil against Mohamed El Shorbagy in last week's US Open in Philadelphia – but having taken the first two games against his younger brother Marwan El Shorbagy, the Aussie finished it off this time, racing through the third for the loss of just two further points to set up a meeting with long-time adversary and Australian team-mate Palmer.
Distinguished Frenchman Thierry Lincou gave one of the day's most impressive performances to set up a meeting with England's No7 seed Peter Barker.
Unseeded on the PSA Tour for the first time for over ten years, former world number one Lincou found himself two games down against Egyptian Hisham Mohamed Ashour, Ramy's older brother.
But the determined 35-year-old Frenchman bravely fought back to record an impressive 9-11, 7-11, 11-9, 11-6, 11-6 victory after 62 minutes.
"Anything I was putting at the front ended in the tin, and I couldn't find any length either, as he was twisting and turning me too much," said the Marseille man about the first two games. "I was only able to play one rally the whole match where I was in control. I'll be ready and sharp for playing against Peter tomorrow!"
Germany's Simon Rosner, who had won his last four encounters with Chris Ryder, extended that run with a four-game win over the English qualifier.
"I'm happy to get through," said Rosner. "Although I don't think either of us were playing at our best, and I was disappointed that I relaxed a bit in the third. Still you have to win those matches."
Rosner will next face James Willstrop, after the fourth-seeded Englishman beat Egyptian qualifier Mohammed Abbas11-6, 11-4, 11-3.
PSA World Series Qatar Classic, Doha, Qatar
1st round (bottom half of draw):
[4] James Willstrop (ENG) bt [Q] Mohammed Abbas (EGY) 11-6, 11-4, 11-3 (30m)
Simon Rosner (GER) bt [Q] Chris Ryder (ENG) 11-6, 11-4, 7-11, 11-5 (56m)
Thierry Lincou (FRA) bt Hisham Mohamed Ashour (EGY) 9-11, 7-11, 11-9, 11-6, 11-6 (62m)
[7] Peter Barker (ENG) bt Ong Beng Hee (MAS) 11-6, 11-6, 9-11, 11-2 (63m)
[8] David Palmer (AUS) bt Alan Clyne (SCO) 12-10, 11-9, 7-11, 11-4 (56m)
Stewart Boswell (AUS) bt [Q] Marwan El Shorbagy (EGY) 11-7, 11-8, 11-2 (35m)
Cameron Pilley (AUS) bt Saurav Ghosal (IND) 11-6, 12-10, 11-7 (54m)
Tom Richards (ENG) bt [2] Ramy Ashour (EGY) 11-4, 11-6 ret.
2nd round  line-up:
[1] Nick Matthew (ENG) v Tarek Momen (EGY)
[6] Gregory Gaultier (FRA) v [Q] Siddharth Suchde (IND)
Nicolas Mueller (SUI) v Mohd Azlan Iskandar (MAS)
[3] Karim Darwish (EGY) v [Q] Henrik Mustonen (FIN)
[4] James Willstrop (ENG) v Simon Rosner (GER)
[7] Peter Barker (ENG) v Thierry Lincou (FRA)
[8] David Palmer (AUS) v Stewart Boswell (AUS)
Tom Richards (ENG) v Cameron Pilley (AUS)
---
WISPA World Series Qatar Classic Round One:
[1] Nicol David (Mas) bt Line Hansen (Den)                  11/4, 11/4, 11/4 (25m)
Kanzy El Dafrawy (Egy) bt [16] Delia Arnold (Mas)                 11/8, 4/11, 6/11, 11/6, 11/8 (73m)
[7] Camille Serme (Fra) bt [Q] Tenille Van Der Merwe (Rsa)                11/3, 11/8, 11/5 (26m)
[9] Raneem El Weleily (Egy) bt [Q] Tania Bailey (Eng)                 11/4, 11/6, 8/11, 10/12, 11/3 (41m)
[3] Rachael Grinham (Aus) bt [Q] Yathreb Adel (Egy)                 11/8, 11/5, 11/2 (26m)
Aisling Blake (Irl) bt [14] Sarah Kippax (Eng)               11/1, 11/9, 11/3 (32m)
Emma Beddoes (Eng) [8] Omneya Abdel Kawy (Egy)                6/11, 11/3, 11/7, 13/11 (44m)
[15] Joey Chan (Hkg) bt Heba El Torky (Egy)                 6/0 rtd
[12] Low Wee Wern (Mas) bt [Q] Emily Whitlock (Eng)                11/3, 11/9, 11/5 (28m)
[5] Laura Massaro (Eng) bt [Q] Merhan Amr Mahmoud (Egy)                11/4, 11/3, 11/5 (22m)
[Q] Farah Abdel Meguid (Egy) bt [11] Jaclyn Hawkes (Nzl)                11/3, 5/11, 11/8, 11/7 (30m)
[4] Madeline Perry (Irl) bt [Q] Siti Munirah Juson (Mas)                 11/6, 11/4, 11/2 (20m)
[10] Donna Urquhart (Aus) bt Victoria Lust (Eng)                  11/3, 12/14, 6/11, 11/6, 11/8 (53m)
Nour El Sherbini (Egy) bt [6] Kasey Brown (Aus)                  11/9, 7/11, 11/5 rtd (36m)
[13] Nour El Tayeb (Egy) bt Gaby Huber (Sui)                  11/1, 14/12, 11/8 (25m)
[2] Jenny Duncalf (Eng) bt [Q] Sina Wall (Ger)                   11/6, 11/3, 11/6 (20m)
Brown bows out as five seeds fall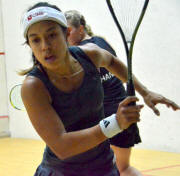 An eminently predictable first winner as day four got under way at the Khalifa International Tennis and Squash Complex in Doha as defending champion Nicol David eased to an 11/4, 11/4, 11/4 win over Line Hansen, the Malaysian moving as sweetly as ever and showing no after effects of her unexpected loss in Philadelphia.
"It's just the start of another tournament and I'll learn a lot from the last one," said the world number one who will be looking for a record sixth World Open title in a few days' time in Rotterdam.
"I wanted to come in strong at the start, and I don't think Line was feeling the court as well as I was so I tried to take advantage of that as much as I could. It's good to get a nice solid match under my belt to build up for the second round."
France's Camille Serme was next onto the same court, and completed her 11/8, 11/3, 11/5 win over a similarly-attired Tenille Van Der Merwe a few minutes before the first match on the adjacent court came to a dramatic end.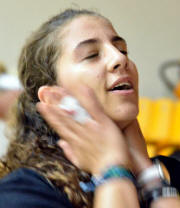 Young Egyptian Kanzy El Dafrawy had taken the first game against Delia Arnold, but the Malaysian struck back to lead 2/1. Slowing the pace down, Kanzy, diving all over the court – three times in one rally apparently – took the final two games, holding her nerve in a series of long rallies at the end of the decider.
"I played well in the first game," said the delighted winner, "but I was too fast and I was dead after a few points in the next two – she was playing my fast game but she's better at it than me so I had to try to slow it down.
"I managed to do that, ad at 8-ll in the fifth I told myself that she'd beaten me once, that I'd not qualified for Qatar in three attempts, and that I didn't do all the work over the summer for nothing so I wasn't going to lose now!
"I kept the ball deep, played patient and waited for her to make the mistakes which thankfully she did!"
Third seed Rachael Grinham wasted no time in despatching her young Egyptian though, beating qualifier Yathreb Adel 11/8, 11/5, 11/2 in 26 minutes, but Raneem El Weleily, who has been knocking over top ten players for fun of late, had a touch of trouble with a former top-tenner.
After taking the first two games, it looked like the two-time world junior champion was going to ease past her predecessor of eight years, but Bailey struck back to force a decider. The Egyptian resumed control though, taking it 11/3.
The demise of two seeds followed as first Aisling Blake, then Emma Beddoes upset the apple cart. Blake, apart from the middle of the second game, was always in control against Sarah Kippax, the 14th seeded Englishwoman looking short on confidence while Blake was buoyed by between game advice from Nicol David and won 11/1, 11/9, 11/3.
"We've had some good battles, Sarah and I," said the Irishwoman, "but I went in with a gameplan today and stuck to it. There was a bit of a hairy moment when I was 9/6 down in the second, but I just settled down and refocused. I felt good on there today, and Nicol told me all the right things, she knows me well."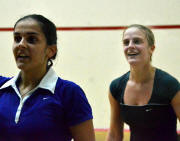 Beddoes went a game down to 8th seed Omneya Abdel Kawy, but dug in to take the next three for a big upset. Two tins when the Englishwoman was 10/8 up in the fourth might have been costly, but Kawy found the tin herself on her one chance to take it to a decider as Beddoes won 6/11, 11/2, 11/7, 13/11.
"She was well on top in the first," admitted Beddoes, "but she's always a bit up and down and it takes you a while to see where the ball's going. In the second I was seeing it much better and just took it on from there.
"I'm really pleased to win that one, especially after missing on those first two match balls, I was pleased to be able to tough it out after that.
Hong Kong's Joey Chan completed the afternoon session, easing through the first few points against Heba El Torky before the Egyptian retired with a shoulder injury sustained a few days ago.
The evening session saw four qualifiers back in action, and three of them were despatched in straight games – Low Wee Wern beat Emily Whitlock, Laura Massaro beat Merhan Amr Mahmoud and Madeline Perry beat Sitih Munirah Jusoh, all straightforward enough with only Whitlock coming close to taking a game.
Farah Abdel Maguid did take one though, earning a surprise lead against Jaclyn Hawkes as she more than matched the 14th seed. Trailing 5/2 in the second, Hawkes put together a run of nine unanswered points to level, but she was quickly in trouble again as Meguid picked up the pace again, and played the next two games in the vein of the first to complete the upset 11/3, 5/11, 11/8, 11/7.
"That's my best win by far," said a delighted 19-year-old. "I really didn't know what to expect, but everyone told me I had a chance and I wasn't nervous at all, I was just looking forward to playing one of the top players.
"It was my 19th birthday just before the world juniors which was pretty disappointing, but this is pretty good!"
Next up were two Australian seeds and we almost lost both of them.
Kasey Brown was having a tough, hard-hitting and hard-running encounter with Nour El Sherbini. The young Egyptian took the first 11/9, Brown came from 5/2 down to take the second 11/7, but she looked to be hurting after some particularly tough rallies.
Sherbini took an early lead in the third, 3/1 then 6/2, and although Brown fought back she was clearly in some sort of trouble. A couple of uncharacteristic attempts at quick winners from Brown gave the game and the lead to Sherbini 11/5.
After taking the interval Brown came back onto court and offered her hand to her opponent.
"I've not been feeling well, I was in hospital earlier today," said last week's US Open finalist. "I thought I'd come and give it a go and I was ok for a while but I just couldn't carry on."
Donna Urquhart, on the adjacent court, was having just as tough a time with England's Vicky Lust.
After taking the first with some ease Urquhart found herself 2/1 and 6/4 down, but managed to recover to take the win 11/3, 12/14, 6/11, 11/6, 11/8 in 53 minutes, the longest match of the round.
"I never expected it to be easy," she said, "but you're always a bit nervous when you're the seed and expected to win. It was a bit scrappy at times but I just managed to hang in there."
The final pair of matches saw contrasting 3/0 wins for players who have done well here in Qatar.
Jenny Duncalf, winner here in 2009, beat German qualifier Sina Wall comfortably enough, and although world junior champion Nour El Tayeb, who reached the semis here last year,  also won in three, Switzerland's Gaby Huber gave her a sterner test.
Tayeb raced through the first 11/1, had to save game balls in taking the second 14/12, and let a good lead in the third slip to 7-all before finishing it off.
Full Qatar Classic Coverage:  www.squashsite.co.uk/qatar